Your Board of Directors and leadership teams can harness the
power of collaborative strategic planning through BoardPaq's
SWOT Analysis tool
Collaborative Strategic Planning
BoardPaq's Board Portal SWOT Analysis is the first collaborative strategic planning
tool designed to help engage your board's leadership team in developing high
impact strategies that get your organization to the next level.
Implement SWOT Collaborative Strategic Planning in your next meeting.
Request Demo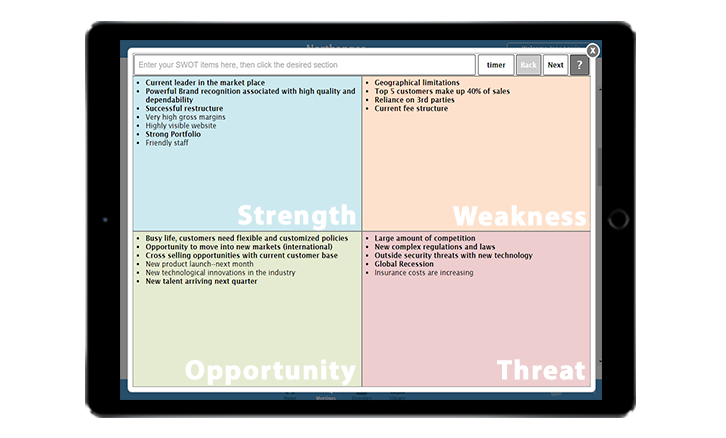 Collaborative Strategic Planning
The SWOT Analysis tool guides your board members and leadership teams through the process of identifying Strengths, Weaknesses, Opportunities, and Threats within your business, team, project or initiative. The process continues as the team collaborates on the items in each SWOT category and refines the submissions to identify key items that could be acted on. Finally, the tool provides a mechanism for each team member to weigh in on the items to create a final summary of the SWOT submissions as weighed by the whole team.
Create the high impact strategies that take your organization to the next level.
Strengths (Internal)

Characteristics that give an advantage over others

Weaknesses (Internal)

Characteristics that are a disadvantage relative to others

Opportunities (External)

Elements that could be leveraged to our advantage

Threats (External)

Elements in the environment that could cause trouble
Let us show you
See BoardPaq in action and learn how SWOT Analysis can help your strategic planning.
Request Demo