We have looked at several solutions, and what really won us over was the ease of use with your Admin Center.

Wanda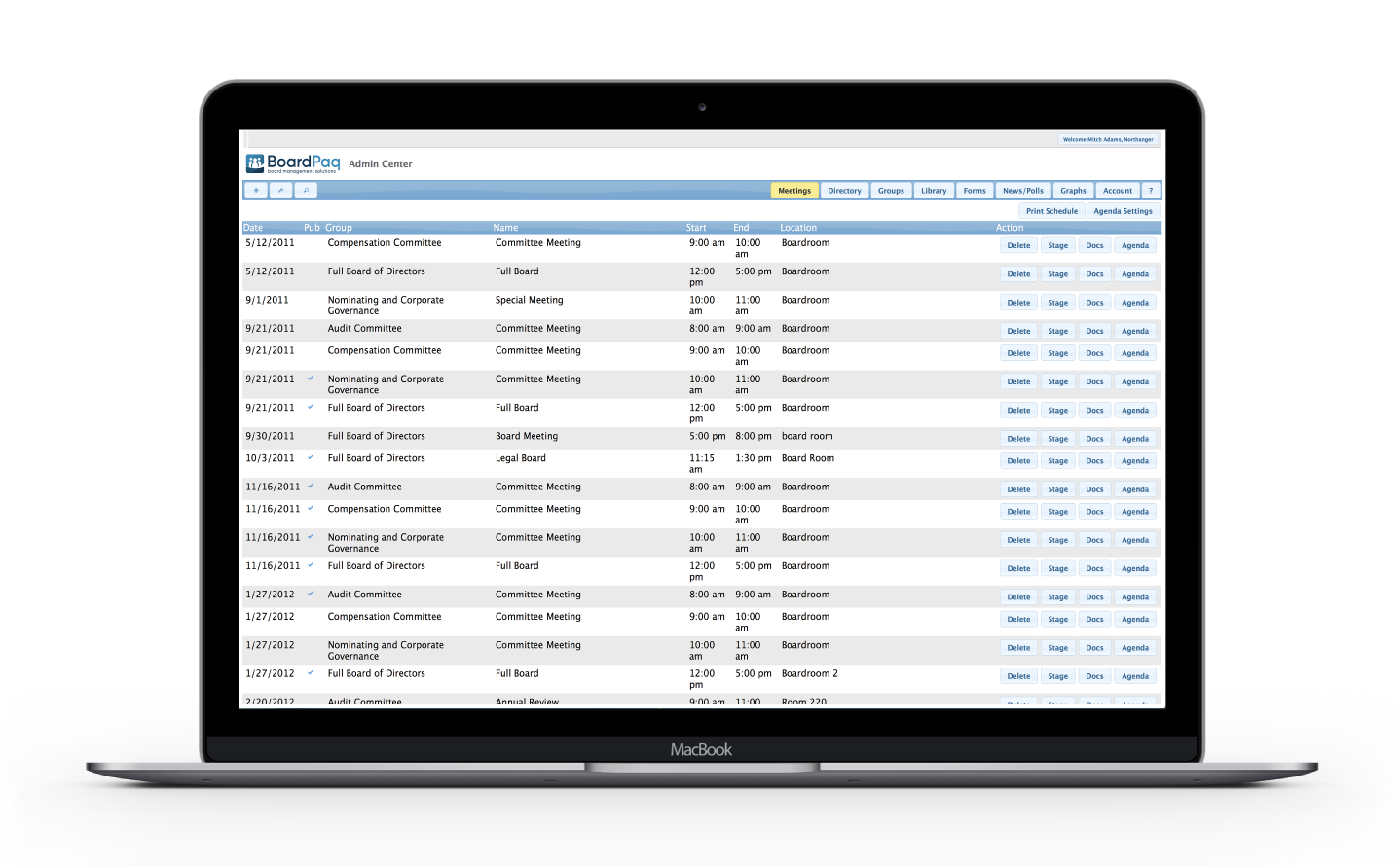 Quickly and easily manage meetings
Replace printed board books that go out of date before the board gathers with online, real-time materials.
Directory
BoardPaq's detailed bios and contact information allow users to become more informed about each member and encourage open communication.
Committees
Maintain committee memberships to determine access to meetings and their documents and contents. Group notifications can be sent with one click.
Meetings
Create and organize meetings using BoardPaq's Agenda Builder. Link documents to agenda items and easily make last minute changes. Agenda Builder supports custom templates saving time and effort when organizing your board meetings. BoardPaq's Minutes Builder allows for easy control of meeting workflow. Administrators can record attendance, maintain minutes, record resolutions, track votes, and create assignments.
Library
Ability to organize and reorder general reference documents for users to view and annotate at any time.
News
The News feature allows users to stay briefed on important information. This provides a more efficient line of communication among committees, board members, administrators and leadership teams.
Account
Ability to set account level options. Fully customize security settings and enable optional BoardPaq features.
Dynamic Forms Builder & Reporting
Collecting important data from your members has never been easier. Create custom forms, reports, graphs and analytics that are easy to manage and distribute. Ideal for Board Assessments, CEO Evaluations, D&O Questionnaires, Compliance Questionnaires, Conflict of Interest Disclosures, Skills Inventory, Surveys and more!
E-Signature
Easily and securely collect signatures for documents and forms!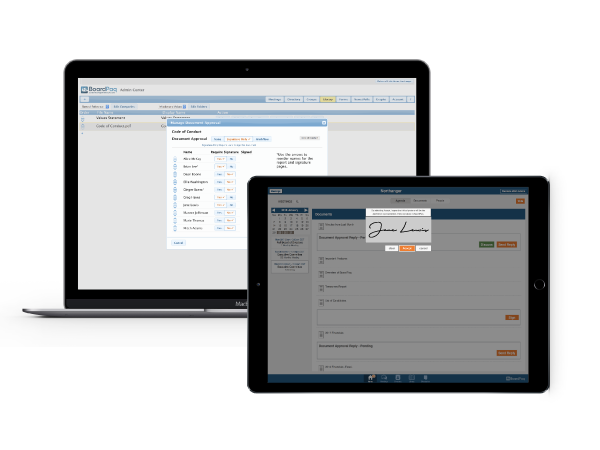 Easy to Use Features
We have found BoardPaq to be very user friendly

Debbie
Action Items
Quickly review a summary of board member tasks before and after meetings with BoardPaq's Agenda Follow-up Menu. You'll see everyone's feedback including minutes reviews and updates on assigned tasks.
Total Content Control
Organize current meetings and plan ahead while keeping everyone up-to-date.
Manage when information becomes available to users through multiple meeting stages.
Multi-Doc Upload
Multi-doc upload makes it easy to add meeting docs to support agenda items and meetings. Adding reference materials to the board portal's Library is even quicker as well.
Agenda Builder
Create agendas directly in BoardPaq's Admin Center and easily make last minute changes or updates. Save time setting up future meetings using the templates feature. All information is auto-saved, ensuring admins the ability to work on the most up-to-date information. With multi-level admin access, multiple people can work on meeting materials at the same time and help manage their section of each meeting, allowing admins to split up their workload.
Guide Articles
Through Guide Articles, admins stay up to date with the latest BoardPaq news on features, updates, training webinars and tips to help admins get the most out of BoardPaq.
Helpful training guides and videos are always available in the Guide to provide assistance in using the product.
Account Settings
You can choose to bypass entering your password on every login and have the system retain your information.
Payment Control
Manage security and account settings from admin center at any time. Configuring password size, expiration, and session timeout minutes are just a few examples of the options that are available.
Minutes Builder
Organizing your minutes is easier than ever with BoardPaq's full-screen, tabbed Minutes Builder. This allows you to keep track of attendance, minutes, resolutions, assignments, and votes during your meetings. One click at the end will generate the minutes document for you.
Our customers say it best.
I think it's so nice that you have Administrator controls. If we have a one-time meeting, say every 6 months or once a year where we have additional people that would need to access BoardPaq we can pay for those users for that month and not have to pay for the rest of the year. Then pay for them again only when we have that meeting again months later? That's great!

Joe
Security Features
BoardPaq understands that security and confidentiality are core product features. Security assurance is a key requirement for customers, so BoardPaq implements a secure-by-default design. Configurable options are available for individual customers to adapt the security model to their particular needs.
Data Encryption
BoardPaq uses the highest level of encryption (AES-256 encryption in transit and at rest) to protect your information. Your account will have its own unique generated encryption key. Only your members can access your material from the Cloud.
Password Protection
Manage password policies including size, expiration, lockout, session duration, and password resets. Add two-factor authentication for enhanced protection.
Access
With BoardPaq, you can control which members or groups have access to documents, agenda items (great for open/closed meeting sessions), discussions, document approval, and more. This tool gives each organization the ability to control who sees what.
Content
Pinpoint the exact audience for your meeting. Select specific groups to invite to meetings and view Library content.
Member Terms
Automatically manages user's access based on dates entered for member's terms of service.
Activity Logs
Ensure your information is always in the right hands. Track member usage and download activity with ease.