Use BoardPaq with the device of your choice!
Same look and feel across ALL devices.
Installable on iOS, Android, Chromebook, and Windows 10 or accessible from any modern browser.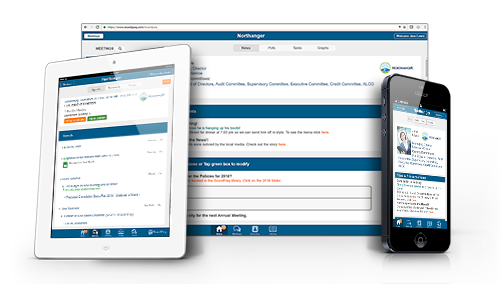 I love that the Web App and iPad App look and work the same way. This helps so much.

Torri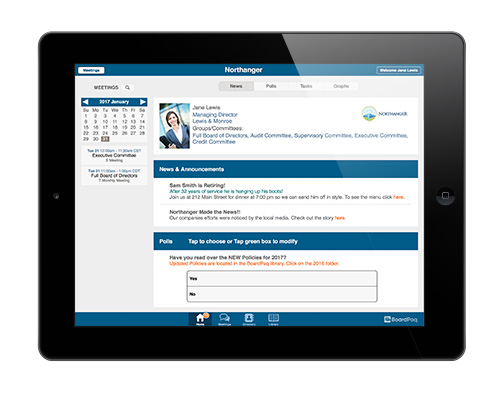 I love the regular updates to the system. It seems like whenever we (as staff) come across something that we think could be improved, you read our minds and it's updated the next time we log in! I can tell that the company really does live by the 'earning your business each month' mantra.

Beth
Member Home Page
Keep Board Members informed with the News and Announcements features. Allow for quick, informal Polling questions. Use action items to allow members to review draft minutes, RSVP, and complete assigned tasks from previous meetings.
News & Announcements
The News section quickly briefs users on recent company or organizational news. An administrator can add member welcome messages and provide any information or news items that members should be informed of prior to a meeting.
Personalization
Ability to add company logo, member photos, and contact information for current users and their committees.
Polls
Administrators can quickly collect data from members by creating Polls. Members tap desired answers and results are compiled automatically.
Tasks
The Home screen tracks individual member tasks to complete for each meeting. Complete assignments from prior meetings. Review and comment on draft minutes. Respond to RSVP meeting requests.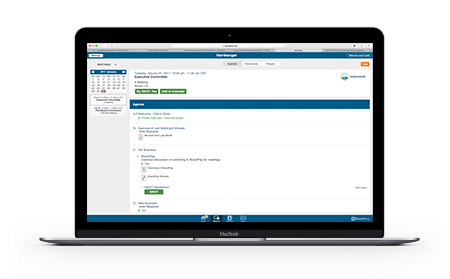 It was so nice to only bring iPads to the meeting! No more paper! Thank you for your flexibility and working with us to add features. We have spent a great deal of time looking at solutions and making sure they can fulfill our needs.

Monica
Meetings
Meeting Calendar
Easy access to upcoming meetings as well as past meeting materials. Automatically displays meetings for the current month.
Membership Directory
Easy access to member contact information, bios and committee memberships. Ability to upload photos allows for greater recognition and more comfortable interaction.
RSVP
Allows members to inform the board administrators of their availability and provide additional notes prior to meetings.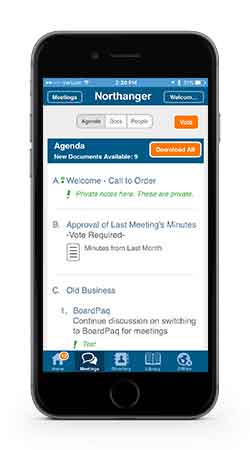 You have no idea how much we spent on printing and mailing our documents! I wish we would have known about this ages ago!

Mike
Agenda
Maintaining an online meeting agenda within the board portal allows users to view correlating documents and add notes to agenda items.
Supporting Documents
View documents with agenda items so that they appear in context.
Agenda Item Notes
Attach personal notes and reminders to agenda items for reference during meetings.
Secure Discussions
Secure, real-time discussion enables collaboration between members and staff on individual agena items.
1-Button Download
That's all it takes for users to access the most up-to-date content and to load all available meeting documents with one touch.
Real-time Voting
Vote any time the resolution is open for voting, from anywhere.
Side by Side Display
View your meeting agenda on the left, while the document you have open stays on the right!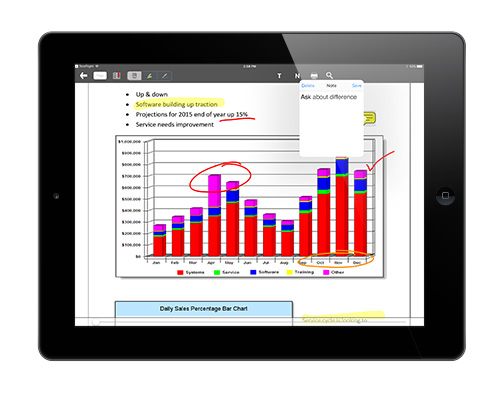 Allows our Board Members to maximize their efficiency in and out of the boardroom.

Luanne
PDF Annotation
Allows board members to virtually mark up documents while preparing for a meeting.
Responsive Toolbar
The responsive toolbar reacts to all of your document edits and additions.
Navigate
Locate specific content within a document by scrolling, jumping to page number, or searching for key terms.
Document Markups
Highlight, Free-hand Drawing, Sticky Notes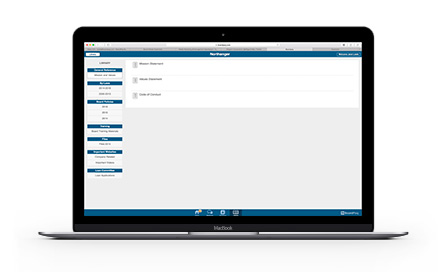 BoardPaq has enhanced our directors ability to review current and prior board information as well as other data they need at their fingertips.

Marie
Library and Offline Mode
Library
Access general board documents such as board policies and procedures, mission and vision statements, codes of conduct and other general reading material.
Offline Mode
Available for iOS app, Chrome, Firefox, and Opera.
When offline, you can still securely view meeting agendas, documents, Library documents, make annotations and more!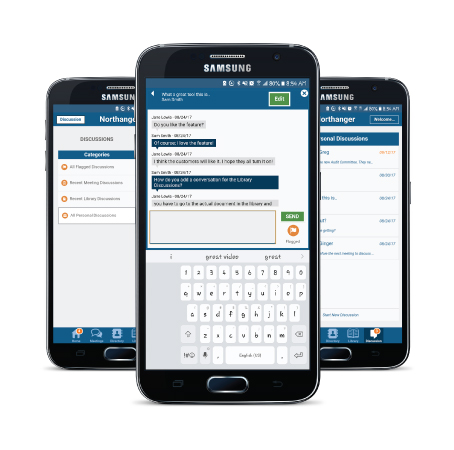 Enhanced Discussions
Keep members engaged and connected through real-time, contextual discussions. With this tool they can monitor discussions across the entire account in one secure place. Flag discussions from across all categories to keep tabs on what's most important to you.
Agenda Discussions
Participate in discussions on any meeting agenda item. See what others are saying about various hot topics on the agenda.
Document Discussions
Discuss specific documents to help with document approval workflow.
Personal Discussions
Communicate privately with individual members or groups of users.