Charities and Foundations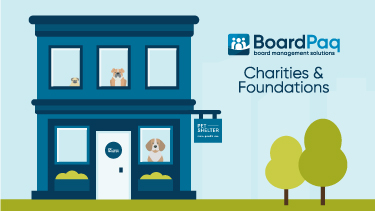 Board Portal for Charities and Foundations
Nonprofits rely on volunteer board members who have a limited amount of time to dedicate to an organization, and staff that frequently serve in multiple roles. In other words, time and capacity are at a premium in nearly all nonprofits, from the smallest community-based organization to the largest national nonprofit. And too much of that time is often consumed by governance and managing a board.
Nonprofit leaders can make their lives easier by using BoardPaq, the board portal of choice for cost-conscious nonprofits. Our premier paperless meeting platform makes managing your nonprofit's board and committees easier than ever, and includes additional features like downloadable forms and an innovative strategic planning and SWOT analysis tool.
WE GIVE BACK!
Your free demo and your paid subscription help plant trees around the world! At BoardPaq, we value people and purpose. That's why we've partnered with Good Meets World and One Tree Planted to help make a difference. Less Paper. More Trees.
BoardPaq's unique features for Charities and Foundations:
E-Signature
Easily and efficiently collect signatures on documents and forms
Dynamic Forms Builder
Custom Forms for keeping track of Volunteer Hours, Conflict of Interest, etc
Customizable Library
Customizable Library to store Bylaws, Policies, Orientation Manuals, etc
Meeting Tasks
Keep users on track with Meeting Tasks such as: Voting, RSVP, Assignments, etc
Enhanced Discussions
Agenda and Personal Discussions to keep members engaged
Collaborate with SWOT
Collaborative SWOT tool for strategic planning
Term Tracking
With BoardPaq, you can easily track Members terms
Graphs
Graphs to keep track of Donations & Memberships
Minutes Builder
With Minutes builder you can record important decisions that are made throughout the meeting
Save Money
Replaces cost of printing/binding, shipping, etc
Case Study - Arch Grants
"For staff, BoardPaq is a game changer. For volunteers, BoardPaq is a tremendous tool to get and stay informed throughout the year."
Our Charities and Foundations customers say it best
"We use Boardpaq for our not-for-profit board meetings. It has changed the nature of our board meetings. It is easy to attach all the pertinent documents to the agenda so directors can review the materials before the meetings. It is also easy to take notes for each agenda item. Afterwards there is an ongoing file of all the materials and notes, so board members can go back to any prior meeting. We also utilize the library feature to post important information that board members may need to refer to. It is no longer necessary to keep larger binders full of materials. We love Boardpaq."
-- Jim Lang - Boone Center, Inc. --
"BoardPaq is a very straight-forward platform for staff to maintain, and for board members of various technical abilities to navigate"
-- Arch Grants --
"Non-profit organizations don't have time, money, or personnel to waste in today's lean climate. BoardPaq lets us harness the power of the cloud by making paperless meetings and the online flow of materials and information to our members an easy and affordable reality."
-- Partners for Progress of Greater St. Charles --